Tami just Loves her fans and, as such, didn't want the holidays to pass without offering us a GREAT Holiday present. The added bonus is that this present lasts until January 31, 2013! :-D Don't forget, use code TMD_gift12 .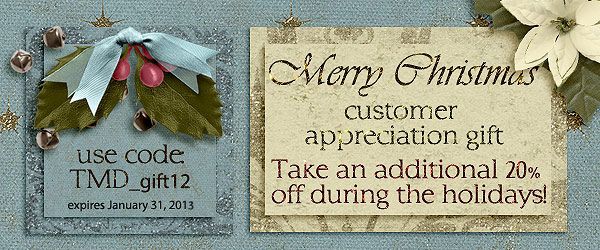 And while you are shopping, don't forget these other two Fantastic offers from Tami. :-)
As part of being this month's Scrapbook-Bytes' Featured Designer, several of her kits are being highlighted. The first kit is her Oh-So-Pretty kit,
NOT TOO SHABBY
, which is
ON SALE for 50% OFF
during the entire month!!
Also, don't forget about Tami's
Reward Card Program
!
Please make certain to read the important Rules & Regulations.
1. Fill in the squares with order #'s and the initials of the store
you made the purchase from ex. GP/#54123/$5 or SBB/#7865/$10.
2. No rounding up. If you make an order for $9.99 it is only good for $5. The order must be for $10 or more to fill out the square for $10. It must be for $5 or more to fill in a square for $5. I hate to be picky, but this is for my own sanity!
3. No adding orders together. One order number per square. Ditto on the sanity thing!
4. Coupons do not count. You cannot make a $5 purchase with a coupon or gift certificate and earn rewards. Also, the amount after a 20% off coupon is the amount that counts towards your rewards.
5. Once you have your card filled out, send it to me at
tami.miller75@gmail and I will send you a coupon code for
the amount you earned in rewards.
Hope you're having a FANTASTIC Holiday season so far!! Have FUN scrapping and don't forget to let us see your Gorgeous creations!! :-D Bye for now!